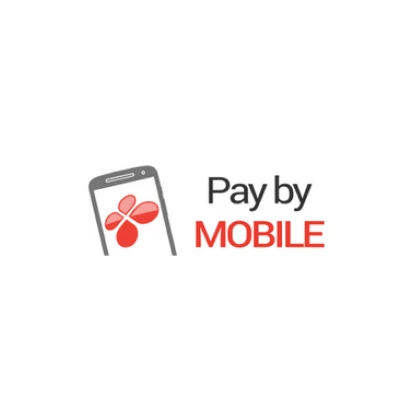 Top Pay By Mobile Bingo Sites

Our Score

4/5
Welcome Bonus
Up to £6000 Welcome Bonus
Play
Using Pay by Mobile for Online Bingo
If you're used to paying for everything with a credit card, the idea of adding a charge to your phone bill might sound foreign. Maybe even a bit wild. However, it has become an increasingly popular way for players to handle payments on online bingo sites. Obscure or not, this method of payment serves as an accessible and safe way to pay for your bingo online.
What is Pay by Mobile?
This payment method is actually as straightforward as the name suggests. Players who wish to make payments through their phone bill simply input their provider information and make all of their charges through them.
The payments are then processed in a fashion similar to that of a credit card. All of your charges then show up on next month's phone bill.
Is Pay by Phone safe to use?
One of the big benefits of paying with your phone bill is that it drastically reduces the amount of private information you have to put online. Instead of giving out their credit card number, and some of the other probing details that are usually required for online transactions, the player needs only to input their phone bill information.
Your phone provider then serves as a barrier between you and the online vendor. No one can steal your payment information because they were never given it, to begin with.
Using Pay by Mobile on Bingo Mobile Sites
Mobile bingo sites that offer the ability to use your phone bill as a form of payment method will typically make it very easy for you to do so. They will make it clear whether they accept the form of payment, and if they do, they will typically walk you through the process.
It is important to remember that while you may not be spending money immediately, this money will need to be paid by the time your next phone bill comes out. It is vital you remain responsible and fully understand this type of payment method before using it to avoid any nasty shocks.
Pros and Cons of Pay by Mobile
While paying with your phone bill may sound like a no-lose proposition, the truth is that it comes with pros and cons. Below we look at the ups and downs of this unique payment method.
Pros

Cons

Not available for withdrawals
Best Pay by Phone Bill Bingo Bonuses
Bingo sites tend to front-load new players with bonuses that help them start playing. These exciting incentives allow you to try the site out with minimal risk. Every site will vary in what they offer.
Below, we highlight two of the most common rewards you will encounter.
Welcome Bonuses
Welcome bonuses usually correlate directly with the amount of money you deposit. The larger the deposit, the more the bingo site will give you as a "welcome bonus." While this money is a great way to get started playing with house money, you usually won't be able to withdraw it until you have played a predetermined number of games.
Free Play Bonuses
Free play bonuses allow you to play one or more rounds of online bingo without making the usual wager. You can usually still win money while playing a free round bonus.
These may be part of your sign-on benefit, but they are also often handed out to players after they play many games.
How to Deposit Using Pay by Phone Bill
Before you can start playing, you need to register with the site. This is usually easy, taking no more than a few minutes. However, your experience may vary based on website policy, as well as your local rules for online gambling.
Step 1 – Register
Registration is mostly straightforward. Read the website's terms to make sure you understand their rules. Submit any documents they may require. Some sites insist that players provide age verification documents before making their account.
Step 2 – Choose payment method
Now that you have an account, it's time to punch in your payment information. In this case, you are paying by phone bill. Enter the information they require, and get started!
Step 3 – Play!
Now, all that's left to do is start playing bingo! In the beginning, you may be able to play with house money thanks to those bonuses we mentioned earlier. Take advantage of the opportunity!
How to Create a Pay by Phone Bill Account
A separate account is not needed when looking to use the pay by phone bill payment method. All you need is a mobile phone number and then the money will be taken from that associated account. Those with contracts will see the money billed on a monthly basis, whereas those who use credit will see it taken immediately from their available balance.
Fast Withdrawals with Pay by Phone Bill
Making a withdrawal on online bingo sites is usually straightforward, but it is not possible to withdraw your funds using the Pay by Phone Bill method. You will need to use an alternative method to get any money owed.
While the actual rules may vary from site to site, below we provide a rough sketch of what the process usually looks like.
Step 1 – Go to your Site Wallet
The website will have a place that shows your earnings. Here, you should also be able to view the withdrawal requirements. You can't always access your funds immediately. Some sites may have time delays or wagering requirements that dictate when you can pull funds.
Step 2 – Enter Amount and Details
If you are withdrawing a large sum, the website may be legally required to have you fill out tax documentation. This, like all other player clauses, should be prespecified in the terms and conditions you sign before starting your account. Read everything carefully as you set up your account.
Step 3 – Await your Withdrawal
Next, you wait for your withdrawal. In this case, it will arrive dependent on the method utilised.
New Pay by Mobile Bingo Sites
If you want to pay by phone bill, you will need to find a bingo site that is capable of handling that type of transaction. Below, we highlight several popular online bingo sites that will suit your needs.
Payment Methods Similar to Pay by Phone Bill
Paying by phone bill is pretty unique. However, if you are looking for something that has similar security features, online wallets like PayPal, Apple Pay or Google Pay may provide similar protection. Like paying by phone bill, they allow you to avoid disclosing any sensitive information.
FAQs
Interested in paying by phone bill, but still unclear about a few things? Below we answer common questions that might be weighing on your mind.
Not exactly. Pay by phone bill usually involves a middle person known as the "carrier billing company."
There shouldn't be any fees for performing normal transactions. However, you will encounter interest and other fees if you fail to make your payments on time.
Your provider should reach out to you personally before processing any new charges to your account.